Usually the first game of the season goes a long way to quell the hope I had built during the offseason. But this year a funny thing happened. The hope I built during the offseason was to be bad enough that David Stern couldn't help but give us the first pick next year, and the Greg Oden era would begin. Last night's win has changed my hope for this year.
Check out the box score:
I know that it's not terribly pretty, and that the Sonics aren't very good, but it still gives me so much hope. Randolph showed what I've been insisting, that he's one of the most dominant power forwards in the game, and that he may have the best recovery from micro-fracture surgery in recorded history. Roy did most of that while playing point guard in the second half. I know that my man Ridnour--a duck--isn't the best defender, but when a 6-6 rookie shooting guard does most of his damage running the offense, and it's his
first gam
e
as a pro, I think that's special. And Udoka. There's too much to say about him. The game story from
the Oregonian
is great. And this post from
Blazersedge
talks about Udoka.
I was sort of joking about Roy being Drexler, Udoka being Kersey, and Randolph being Barkley. Apparently, I was closer to the truth than I thought. Of course, it's just one game. But those are really the things that those three guys consistently did. A lot was said in several articles about Randolph diving for the ball and setting two great picks to free guys up for shots. I just got giddy writing that last paragraph.
Now for the reality check: as much as I was thinking about winning every game while reading the various accounts of the game, there's no way we'll even win more than 35 games this year. So that's what I want, along with some payback from the bouncing balls for us getting the fourth pick last year. Then we can still draft Oden and build on what happens this year.
Here's the starting line-up for the 2009 NBA Champions, in picture form.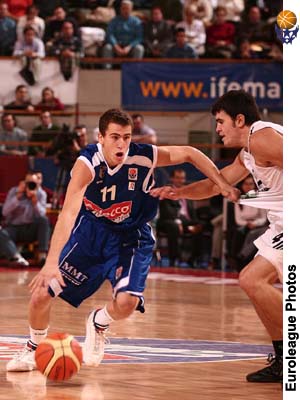 PG
Sergio Rodriguez

SG
Brandon Roy
SF
Martell Webster
PF
Zach Randolph
C
Greg Oden