Yeah, I was at a Blazer game that ended on the wrong side of the win-loss column. And the way it happened, with a disgusting first half, was no good. But at the end of the game, when
LaMarcus Aldridge
's last-second shot cut the final deficit down to two, there was a little happy to go with all of the sad. Sure, the
happy and the sad may taste the same
, but I'd rather taste the happy.
When I got off MAX to go to the game I could feel a buzz in the crowd. No, the buzz didn't come from anything I had ingested prior to my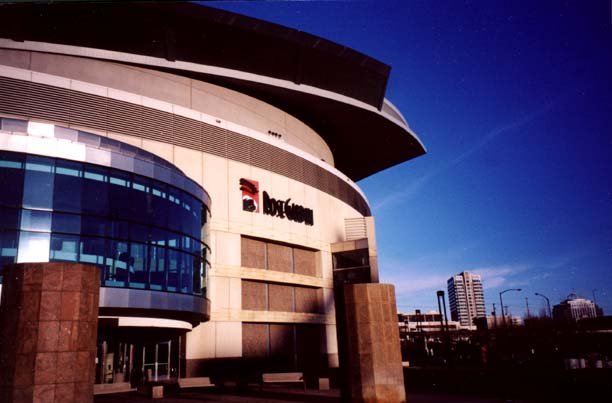 arrival. Fans seemed genuinely excited to be going to a Blazer game. And there were a lot of them. Maybe part of this was from all the Chicago fans wearing Bears gear. But there was certainly a lot of energy from Portland fans as well. And much of this might have come from the news that came out late the day before that
Paul Allen
wanted to buy back the
Rose Garden
. Most fans think this means that the Blazers will be staying in Portland for good. I hope that's the case. No matter what, it seems to solidify things for a while. It also seems like an
act of good faith
that Allen wants to bring the team back to its former glory. (Whatever that might mean.)
Unfortunately, the first quarter of the game dampened the spirits of the crowd. The Bulls were playing terribly, with several passes careening into the stands. And yet Portland couldn't take advantage. It was like the Bulls were offering us the game, but we were too polite to take it so easily. "No, no, you should have it. Really? Are you sure? Well, maybe just a little. What, you really want us to have it? Oh, okay. Well, at least keep some for yourself. No? Well, if you change your mind..."
The Bulls did change their mind, and took advantage of us in the second quarter. This quarter was sick and gross. I don't really know what else to say about it, so I'll just quote the notes I wrote on my napkin from Section 313, Row A, seat 5:
The 2nd quarter was gross. It felt like there were as many Bulls fans as Blazers fans, which was probably because they had so many more reasons to cheer than us. A few times it looked like we were going to start playing with energy. It never lasted.
This is what I wrote in the third quarter:
3rd qt. Wow! Exactly what we needed: energy, good defense, and R-O-Y, Zach, and Joel to step up big. All the sudden it seemed like we were in Portland.
The third quarter really was that much better. I know that some of that was Chicago not playing as well, but a lot of it was us coming out with a ton of energy and doing the little things. The offense was running through R-O-Y, which was fantastic. It seemed like most of Zach's points were coming after Brandon had already looked for what he could. Even so, it seemed like Zach was still into the game, which is usually the knock on him when the offense isn't going through him every play. If he enjoys playing with R-O-Y enough to handle not getting the ball every time down and if he likes Sergio as much as I think he does--from the body language of the few games I've actually seen--then we might be in for a treat if we don't ship him off. A more content version of Zach could be like a more assertive version of Rasheed. Well, except that Rasheed plays good defense and blocks shots. Zach, unfortunately, has only blocked seven shots all season, as my friend
Mark
keeps telling me.
The fourth quarter was probably the best basketball of the night. Both teams were executing pretty well on offense and made it look respectable on defense. It was actually fun to watch the whole second half, but the fourth quarter was great. I hate settling for moral victories--and I've been settling more and more--but it was a good way to close out a game. especially since we scored the same amount of points in the third quarter as the first half, and outscored our first half by two in the fourth. Yikes.
After the game I went out with a few friends from high school, which was fun, but I was still frustrated by the game for this simple fact: why can't we win? The Bulls are a pretty good team. We played
TERRIBLY
in the first half. Put those two things together and that should be a huge loss, especially since we're also young and inconsistent. But we were within two at the end. Had we run a few offensive sets better in the fourth or had Zach made his free throws like usual, we would have won. I know that the Bulls didn't play well in the first quarter at all, but their second quarter wasn't that bad. And their third quarter seemed tough because we actually started playing well more than them just losing it. Part of me thinks that if R-O-Y hadn't gotten cut early and missed most of the first things would have been different, but as Dave at
Blazer's Edge
has noted, we have a habit of coming out flat in games.
Since that rant is done, I'll end by recapitulating the title of this post: it was a pretty good Blazer weekend. The stadium is back in Allen's hands, which should be a good thing, and we played a couple tough games on
Friday
and
Saturday
. The 2009 championship is going to be fantastic, and I can't help but think we're getting glimpses of that every once in a while with LaMarcus, Brandon, and Zach.
*I really wanted to put just the "taste the happy" clip in here, but instead I had to link to that whole episode of Arrested Development. Not that it isn't worth it. And when I called the second quarter "sick and gross" I was of course quoting Eli Cash from The Royal Tenenbaums.